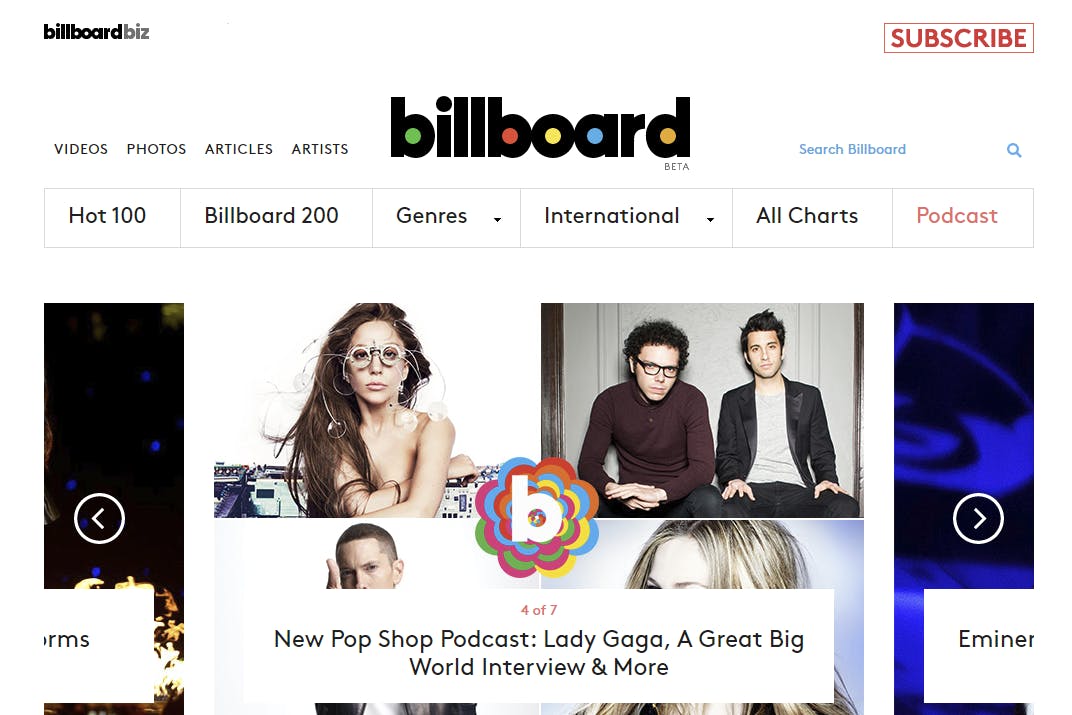 Billboard
The Hollywood Reporter
Websites that Don't Miss a Beat
After upgrading their website, Billboard needed to do a lot with a little, while maintaining the same steady presence.
Big Website, Bigger Expectations
Billboard's place in the music industry is undeniable. Following an upgrade of their flagship website, however, their expansive digital empire was becoming a challenge to maintain and grow. With no in-house designers or developers and a need for expertise in building Drupal 7 websites, finding a way to do more with less became all the more pressing.
At this point in time, I was brought into the senior engineering team at then-parent company Prometheus as their Lead Web Engineer.
Growing to Plan
Within the first week of my tenure, I was tasked with turning around the fortunes of Billboard and the other properties held by Prometheus. 
Placing an emphasis on efficiency and minimizing opportunities for mistakes, I had led the complete overhaul of the engineering process at Prometheus. Documentation was improved upon daily. New features were tested automatically, before they even reached quality assurance. Build processes were revamped to be faster and eliminate downtime. Close relationships were forged with partner development teams, both domestically and in the Ukraine, rather than allowing knowledge to exist in a silo on either end. 
Planning to Grow
In a matter of a few months, we were able to grow the core engineering team to over triple its size, and begin to hire dedicated project teams of front- and back-end developers for Billboard and its sister properties. These initial improvements allowed everyone to hit the ground running and contribute that much more quickly. With the core engineering team laying the necessary foundations, it wasn't long until we were in a position to hire dedicated developers for Billboard's digital offerings.
Topping the Charts
With the support of a talented and rapidly growing team, these investments quickly paid off. The changes made over the span of the first two months alone were estimated to save well over $1 million over the span of the first year, and more in years to follow. Releasing changes to the website became orders of magnitude faster and more reliable, enabling Billboard to focus on what they do best: being the voice of the music industry.
Your Website, the Next Big Thing!
By focusing on fundamentals and letting one change fuel the next, Billboard was able to create a recipe for their own success, all while singing the praises of others.
Is your website ready for the main stage?