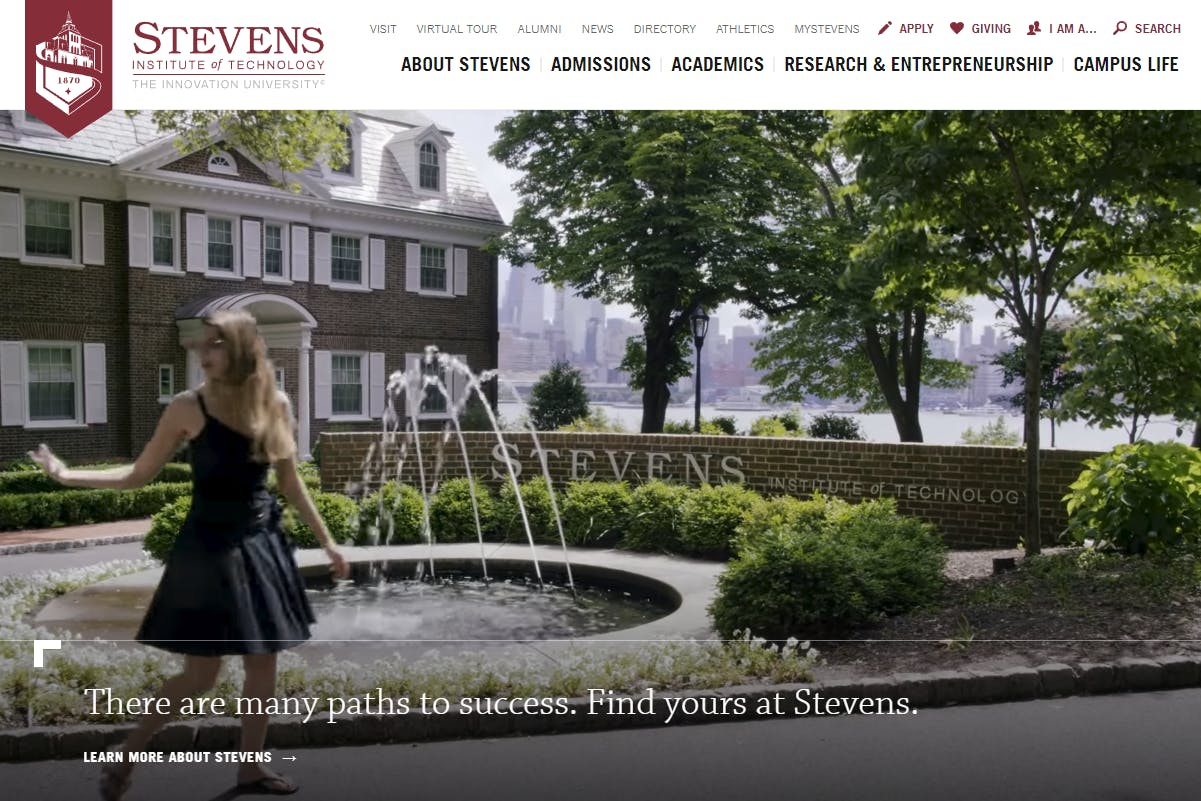 Stevens Institute of Technology
Stevens Institute of Technology
Innovating on Innovation
Stevens needed to tie everything together into one stellar experience.
World Class Education
Overlooking the Manhattan skyline, it seems fitting that Stevens Institute of Technology—a premiere research university situated in Hoboken, New Jersey—is situated across the Hudson from one of the biggest technological and financial centers in the world. The university has ascended the U.S. News & World Report rankings since 2011, and has been consistently rated among the best universities for its high return on investment.
A Host of Websites
With a portfolio as innovative as it is diverse, Stevens continues to enjoy a true renaissance, though managing all of the interrelated Web properties proved challenging at times. With over twenty five websites—each with their own nuances, variations, and workflows—simply keeping the content consistent and up-to-date took considerable effort.
What's more, the underlying architecture began to show its age, and the website struggled at times to keep up with the university's rapid growth. It was never designed to support mobile devices or tablets, making for a difficult experience for an ever-growing on-the-go audience. With the need for a web presence worthy of a world-class university, the solution became clear: it was time to start fresh.
As the Lead Web Engineer tasked with reimagining of the Stevens.edu website, I was eager to help.
Engineering Simplicity
By introducing a new engineering workflow using revision control and agile project management, the improvements began before a single line of code was written. With this stable foundation in place, I was then able to meet with content strategists, designers, engineers, and partner developers on a daily basis, synthesizing their feedback into a complete view of what Stevens needed to thrive on the Web.
Eventually, I had arrived at a solution, presenting a blueprint that would consolidate over twenty five of our existing websites into one single platform. By keeping the editorial experience consistent and unified, the website would be faster, easier to use and navigate, and more reliable.
With the formation of a cross-disciplinary website team to manage everything from content strategy to accessibility, the website would soon enjoy a successful launch that wildly exceeded expectations.
Earning Top Marks
The new Stevens.edu emerged faster and more robust than its predecessor, maintaining an uptime of over 99.99% within the first year while being 120% faster. But the real crowning achievement was in the praise it gained from our users. In a span of only three months, key development pages saw over ten times as much traffic. Thanks to the new mobile-friendly design, smartphone usage had also soared in every dimension, with users staying 15% more often and staying engaged 15% longer on average.
With Flying Colors
The sea change occurring at Stevens was now reflected by a world-class website, and it wasn't long before the world did take notice. It earned the Gold Website Award at the 2017 Educational Advertising Awards, as well as paving the way to a Webby Nominee for Best University Website of 2018 for its groundbreaking virtual tour.
Class is in Session!
By simplifying a sprawling web presence, Stevens had shown the world what they were always capable of, rising to global prominence and impact in the process.
Ready to teach your website a thing or two?